With COVID-19 growing in our communities, Empowerly wants to help you with our plethora of online learning tools. We have been in the online learning space for years, our resources are built for digital use. Rest assured that when you work with Empowerly, you work with a team that understands online learning. We know how to personalize guidance for your specific pain points and needs.
Here are a few online learning tools and services that you should absolutely take advantage of in this ever-changing environment.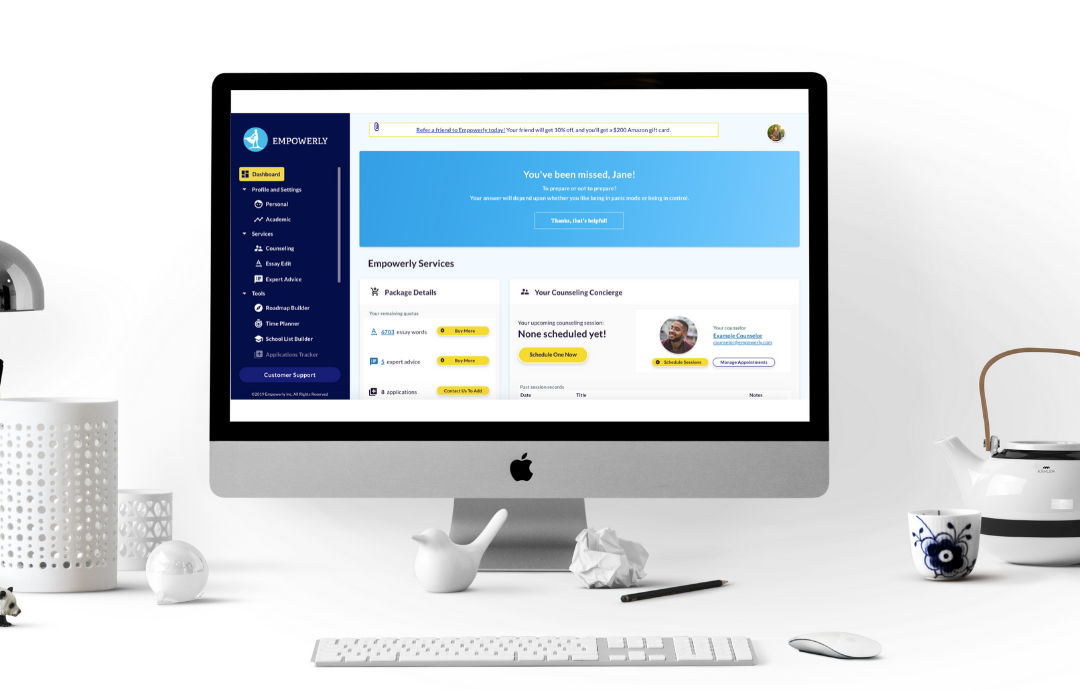 Extracurricular and Summer Opportunities:
The world might be changing, but that doesn't mean your goals and aspirations have to change. Empowerly is working to create new opportunities for students, such as online competitions and digital summer camps that will be announced soon. Sign up for our blog or newsletter to explore opportunities, and we will email you with updates as we announce internal ones. Our Empowerly Portal has extracurricular and summer activity databases, tools to track your progress, and tips to stay on track despite the developments around us.  
Tell Your Schools:  
Empowerly's digital resources are not limited to individual users. If you work at a school or you think your school would benefit from online college admission help, click here and send us a message today! We are offering access to our free online toolkit and free counseling sessions for schools so we can help ease the transition to online learning. Why reinvent the wheel when we have already mastered it? You can integrate our technology with your curriculum and keep your students on track to success!  
Webinars:
Stay up to date on any upcoming events and webinars by signing up for our email newsletter. We bring a wide array of college admissions and industry experts to help you stay on top of your workload and optimize your time. Our guidance can help you understand how to make the most of the shift to doing everything online. This is a pivotal moment for many of us. For high schoolers, this is the time to show colleges and future employers that you are truly able to adapt to new situations and still find success despite the stress and confusion.  
If you want comprehensive, personalized guidance, book a free consultation today! These online tools during COVID are just the start. Our team is working hard to create opportunities for students, regardless of what is happening in the outside world.