Curious about student athlete recruitment? It's an important consideration in college admissions. The Empowerly team has done some research to help our students navigate this path successfully.
Many high school athletes aspire to become college athletes. And it's no wonder, with the dream of a big school, a real fanbase, and access to benefits that coincide with big-time collegiate sports… All of this inspires and pushes athletes to pursue athletics at the highest amateur level. If you want to play at the next level, but are a little lost in the recruiting realm, we're here to help. We have some easy steps and advice to boost your chances of representing your school at the university level.
Although playing at big-time Pac-12 and SEC schools is a possibility, it's not exactly easy. The reality is that only a small percentage of athletes will make it. If you are not one of these athletes, that doesn't mean you should abandon your athletic aspirations. There are over 1,200 registered NCAA schools. So, if you truly want to play a collegiate sport, there is a school for you.
Let's dig in.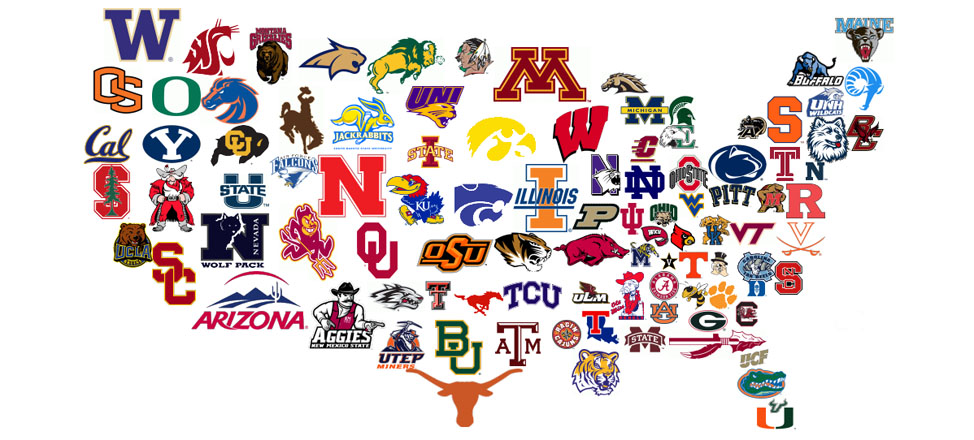 Getting started as a student athlete
It's imperative to start the college recruitment process early. If you start early, you gain exposure that makes the difference in the recruiting process.
Student-athlete recruitment tactic 1: camps
An easy, effective way to start your recruiting process is to attend variety of sports camps. There are big camps that guarantee attendance from multiple university recruiters or scouts. That kind of exposure is especially beneficial when you are younger. Not only will you have time to hone and improve your skills, you can get your name on various coaches' radar by demonstrating your skill and dedication.
Once you progress in your high school career, however, it may be more beneficial for you to attend a single university's camp. Believe it or not, it does not matter what sport you play; coaches are constantly hosting camps for rising high schoolers at every university. It is the simplest way to gather all the kids who are interested in that school into a confined setting. Smaller camps provide a much more concentrated amount of kids, so the coaches have a much better chance of noticing you than at big camps.
There is no set limit on how many camps to attend, and placing yourself in multiple camps is never a bad thing. It expands your options. If you have the means of attending multiple camps, you definitely should. Increasing your chances of being recruited is only going to benefit you.
Student-athlete recruiting tactic 2: recruiting services
Recruiting services can also increase your chances of playing athletics at the next level. However, this route is quite expensive. Recruiting services will send multiple recruiting tapes to different schools in hopes that a great school will be interested in your potential. Although this puts your name out there, it may not be the most effective or efficient way. Utilizing recruiting services should be more of a last resort, not as an initial step in the recruiting process.
Student-athlete recruitment tactic 3: communication
We'll say it again: the best way to attend a great college/s for sports is to start as early as possible. Coaches desire players who are interested in their school, and the best way to exhibit interest is to contact them directly. Unless you are a highly touted athlete in your respective area, coaches are not going to chase and beg you to attend their school.
Here are a few ways you can proactively set up a line of communication:
invite coaches or scouts to your high school games
tell them what tournaments you will attend
keep them updated with your stats and accomplishments
When you create a relationship with these coaches, they will gravitate towards you over other players. Coaches are not only looking for a great player, but also a great person! Create this line of communication to show them your great team qualities.
Tuition and scholarship allotment available during the student athlete recruitment process
One of the main appeals of becoming a student athlete in college is the possibility of scholarships. As tuitions rise, any subsidy can benefit you immensely. Receiving one can lift an extreme financial burden from you and your family.
Know your options
Athletic aid comes in many different sizes and understanding the differences for sports and divisions is very important. Take a look at the tuitions from various universities. Keep in mind that tuition will only increase throughout the years. Universities are expensive, and through athletics it is possible to earn cheaper tuition. Depending on the sport, the amount of athletic scholarships allotted per team varies immensely. Not all sports receive the same number. They range from books all the way to full rides (which pay for tuition, books, room, and board). See below for the different amount of scholarships allowed per team. This website is updated each year.
As you can see, money allotted per team varies by each sport. Receiving a full ride is not easy for many sports. Nonetheless, receiving money is not out of the question. For many teams that have a limited number, partial scholarships are primarily and commonly given. The lowest chunk given covers 25% of the total cost per year, whereas the highest possible covers 100% of costs for the year.
Stay grounded
As you do your financial aid research, please do not become obsessed with the idea that a big scholarship represents your athletic ability. Once you step onto campus, your coach and teammates will not ask how much money you have received. Your athletic prowess is not based on that. Many different variables factor into the sizes, and obsession will only hinder you. If you receive a small amount of money from a school you would like to attend, do not turn it down solely due to the amount of aid offered, unless you cannot afford tuition without more help. With new NCAA rules, scholarships are now guaranteed for four years, with the possibility of being increased (but never decreased). Therefore, your athletic performance will not hinder you, and strong athletic performance can possibly help you financially.
Grades do matter: balancing student and athlete throughout recruitment and beyond
NCAA athletes have strict grade policies making academics are a huge factor in the recruiting process. If a student fails out of school, roster spots are taken away. If you are serious about becoming a collegiate athlete, take school seriously. You will need to have academics locked down in order to have any chance to make it to the next level for athletics. Make the most of this opportunity to gain a college degree and further your career outside of sports, as well!
According to a Michigan State professor, high school athletes reportedly have full grade point higher GPAs than their counterparts. Academic success, in addition to athletic prowess, shows that off-field issues will not hinder your field play once you make it to the next level. Good grades shows that you are disciplined, which also correlates to discipline on the field. Athletes sometimes believe that they do not need to try in school because they can fall back on sports. However, this is untrue and will harm your rise to the next level and limit your options for schools.
It's an exciting process!
The college recruiting process is an exciting time. Playing sports in college a wonderful opportunity that only a small percentage of athletes can achieve. Whether you receive a scholarship or not ultimately does not matter, if you can afford tuition and get the chance to play the sport you love. From personal experience, members of the Empowerly community will tell you that playing collegiate sports is a life-changing, unforgettable experience. You will build irreplaceable camaraderie and ties that can last a lifetime. Enjoy the process and remember somewhere out there, there is a school for you.
We hope this helped you make sense of the process. Are you interested in college admissions help? If you are, we offer college counseling to help you with college applications.
Sign up for a free initial consultation for with one of our teams and learn more about the Empowerly program below.