Developing your college list is a challenging task. Many students who approach us at Empowerly aim to apply  to 6 or 7 (or more) well-selected schools, and spread those across safety, target, and reach colleges. So how do most people create these lists today? And how can students use college list data to build a better list for themselves?  
Some students create complicated spreadsheets. Some simply apply to colleges that are easily accessible—"schools that are geographically close, or that they've heard about from friends. Other students just guess, based on a vague impression.
But there's a better strategy: one that will help you reduce your stress, find your best-fit campus, and put you on the road to success. Do those benefits sound good to you? Read on.
Empowerly has developed a searchable and sortable tool called the School List Builder. This tool helps students and parents around the world figure out which colleges match their profile. In this article, we will review tips on making a college list, variables to be looking out for, and sample use cases. Researching your college list data is a smart choice.  

Tips on the College List
Tip #1: Make sure you have safety schools.
Every applicant should have at least two schools that they consider as "safe." Though no school is guaranteed, students can feel more confident where they believe that they have an 80% or greater chance of acceptance. These schools are usually local universities with high acceptance rates. Often, a student knows they could attend as a backup case scenario. Note that these schools will be different for every student.
It's also important to remember that no school will offer a 100% chance of admission, and that a motivated student can make the most of any school you attend. Safety schools should still offer you a meaningful, accessible start for college and beyond.
Empowerly's School List Builder lets you view a pie chart of all the schools you are considering to determine if you have a balanced spread of admission difficulty.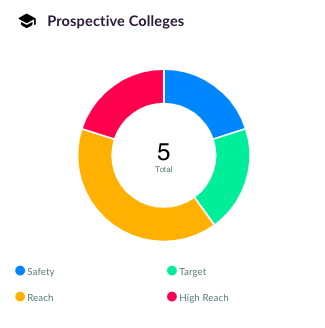 Tip #2: Apply to more, rather than less.
Sometimes, it's a numbers game. Students who take the time to apply to more schools… often are the ones who will get more acceptance letters to choose from when admissions season rolls around. Although this is not always true, especially with the rise of early action and early decision, in our experience at Empowerly we have found it to be correlated.  
Staying organized when you have many applications in progress at the same time is critical. Whether digital or physical, make sure you have a calendar of deadlines and dates so you know what to keep in mind.

Variables
So how do you actually create a college list when it's time to get writing?  
Empowerly has put together a list of 19 different variables that students and parents should consider. These variables include SAT/ACT, GPA, extracurricular activity strength, volunteer work, and more. Each of these variables, or factors in your application, contribute to your overall strength as a candidate. Once you have this information, you can actually start to put the college list data to work for you!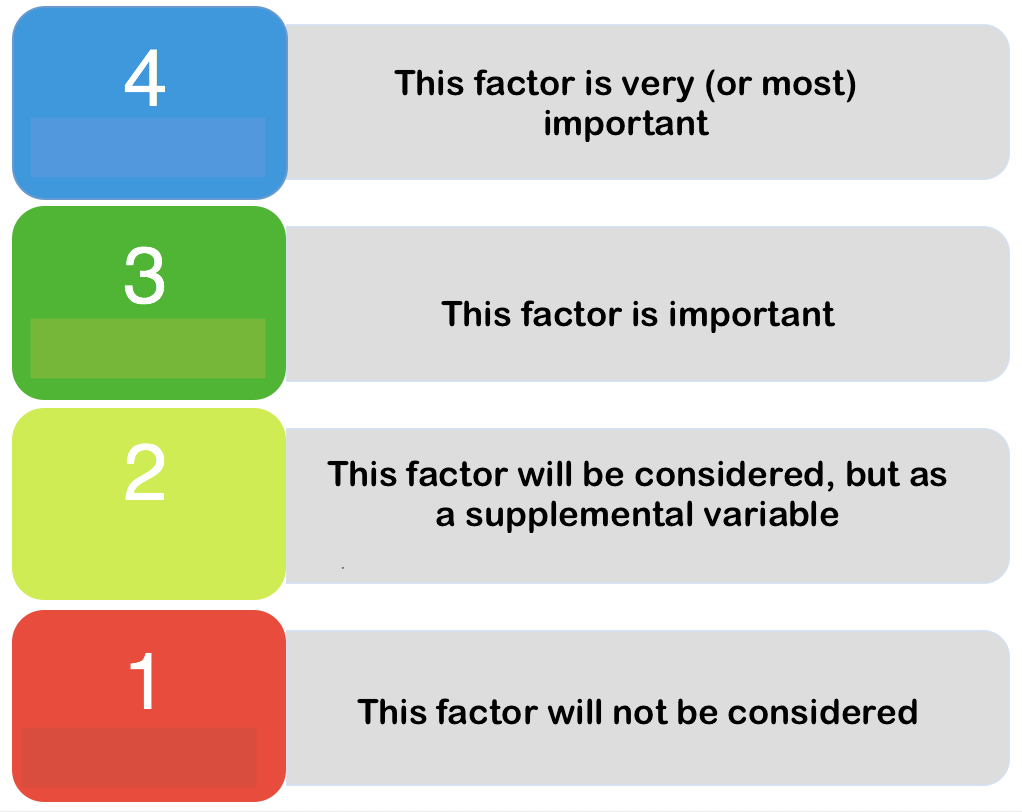 But how do you know which colleges care about which variables?
Don't worry. We have spent the past several years compiling this information so you can decipher the code.
Colleges rank across these variables on a scale of 1-4, with 4 being the most important and 1 being not considered. We can use these rankings across the variables to better develop a student's college list.
How To Access The Data
Book a free 30-minute consultation here to speak to an Empowerly team member about how to get started with our Digital Toolkit and other invaluable counseling services. Once you have all this valuable college list data at hand, our expert counselors can help you interpret it and apply it to your specific situation. We prioritize student success. Our team would love to work with you or your student to make sure you are on the right track.
Use Cases

Now let's see how this information works in action.
"Splitter" Candidate – High GPA, low SAT/ACT

(or vice versa)
We see many of these candidates at Empowerly. Let us take the first case, where the student has a high GPA and a lower SAT/ACT score. Using our data,  we can find schools that match their profile.
First, we should focus on schools that consider GPA to be Important (3) or Very Important (4). Then we should review this list again to find which schools rank Test Scores less than (3) to see schools that consider test scores as Not Important.
With these two filters, we see that Wake Forest and Brandeis are two schools that fit our strict criteria. If our test scores were not that much worse than our GPA, we might consider relaxing the test score standard to be less than 4 (1, 2, or 3 out of 4).
This set of parameters reveals over 15 colleges that would be a great place to start your research.
Strong activities and weaker GPA
We also have students who have a strong extracurricular story, but weaker academic scores. Where should they apply?
First we will prioritize schools that rank Extracurriculars as (3) or (4), to see schools that think they are Important or Very Important. Then we will review this list again to see schools that consider GPA less than Very Important (ranking GPA as a (1) or (2) instead of higher).
We find schools like Lehigh, Boston University, and University of Texas Austin that match our criteria.
You can narrow down your list as much as you like, and then even prioritize those remaining schools on different variables. The variables including extracurricular activities, recommendations, interviews, and many other factors in the college admissions process.
Hopefully this informational insight will help you crack the code of college admissions, and focus your application energy on schools where you are a strong candidate. The Empowerly approach will help you find the best possible school for you to attend and excel! We are constantly adding more resources and more data to our Digital Toolkit to keep our students at the cutting edge of admissions news.  
Interested in learning more about the data-driven approach?