While the elimination of the SAT and ACT in college admissions opens up accessibility for many, others now struggle to quantify their potential. College acceptance benchmarks may be elusive, but not impossible. Empowerly understands that students are more than just a number. Here is the Empowerly solution.
Test scores are no longer the ultimate benchmark for college eligibility. To keep pace with these rapid changes, the brains behind the Empowerly program have outlined a trackable, customizable, and easy-to-navigate solution. Dubbed the "Empowerly Score," this innovative, data-backed tool can actually measure and monitor the impact of every factor included in a college application.
Here's how it works
Here's how it works. The more information a student can enter into the diagnostic tool Empowerly has developed, the higher the confidence rating of Empowerly's judgment of their score against accepted student benchmarks. This includes activities, sports, achievements, awards, volunteering efforts, resume, and grades. If you opt to have your essays evaluated by the Empowerly Editing Team, you have more data. You can even input a value based on the written components of your application.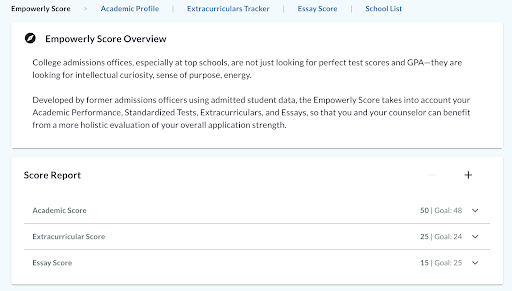 Each input added ranks based on its value and importance to the application. This is in order to compute a single number: the strength of a student's college profile overall. The number falls on a scale of a total possible 100 points. (Don't worry, this doesn't translate to a percentage.)
Correspondingly, every top college and university in the United States has a ranking. That indicates the difficulty level of admission to that school. You can use this as a metric to which your Empowerly Score can be compared.
For example
In this example, if I scored a 90 [based on my grades, clubs, sports, and essays from high school], I would be a good candidate for schools with a difficulty level of 90 or below. I can then use this dynamic, real-time metric to tell me how far I have to go toward my goal. As I can track, it updates my progress.
Here's the breakdown: say I decide that CalTech would be the best school for me to study. Then, I could focus on improving various parts of my Empowerly Score to boost me from 90 to 97. This would give myself the best possible chance of admission.
Schools with a difficulty level of 91 or higher remain "reach" options for me during the application process, if I don't change anything.
The score was tested with students, checked against past admitted student data, and approved by former admissions counselors and experts in the field. The Empowerly Score indicates how students measure up against the colleges where they plan to apply. The public has never seen ground-breaking, holistic evaluation systems like the Empowerly Score before. The Empowerly Score has already been made accessible to current Empowerly students in a beta test. Early users have deemed this knowledge critical to leveling the playing field in the absence of other quantitative information.
In their own words
Here is what some of our early testers had to say, in their own words.
Most chancing calculators don't take into account intangible factors… so this is definitely really helpful because it shows me what to do to improve my chances and continues to calculate progress.—

A.C., Missouri
"…the Empowerly Score is more holistic and I've got a better idea of where I actually fit."

N.M., California
"Having this documented and seeing in terms of numbers what I'm sufficient at and what I need to improve on is really helpful."

P.N., California
For more information on the Empowerly score, or how an independent college counselor can offer you individualized guidance for navigating the ever-shifting world of college admissions, visit Empowerly's website or learn more about how to use the score here. You can also send us an email at <enrollment@empowerly.com>.
We can't wait to meet you.
Learn more about navigating YOUR personal college journey with a free conversation with our team by booking a free consultation.