Cost of College
You may think you know what the cost of your college degree will be…but have you factored in all the hidden fees? No one wants to be surprised by the amount your college education actually costs. One of the last things you (or your parents!) want to be ruining your first chance to adventure out on your own is sticker shock. 
What's more, the costs of college have changed dramatically since your parents, aunts and uncles, teachers, or other mentors went through the process. With digital payments, online banking, and more, it can be a lot more confusing… and Mom and Dad don't necessarily know how to help.
Empowerly to the rescue! Read on for strategies and advice on how to navigate college finances.

Without further ado, our first tip.
Have no fear!
You're already one step ahead of the game by being here, and we're proud of you!
Gathering knowledge, arming yourself with the facts, and being willing to have these difficult conversations means you're already doing your best to balance that checkbook. As you move forward in life, be brave and ask the hard questions, especially when it comes to money.
So let's talk about it.
Certified Empowerly Superhero, Sophia Minhas, created this handy-dandy graphic to make the real cost of college easy to understand.
Which is absolutely wonderful. (Because let's be real, finances can be intimidating.)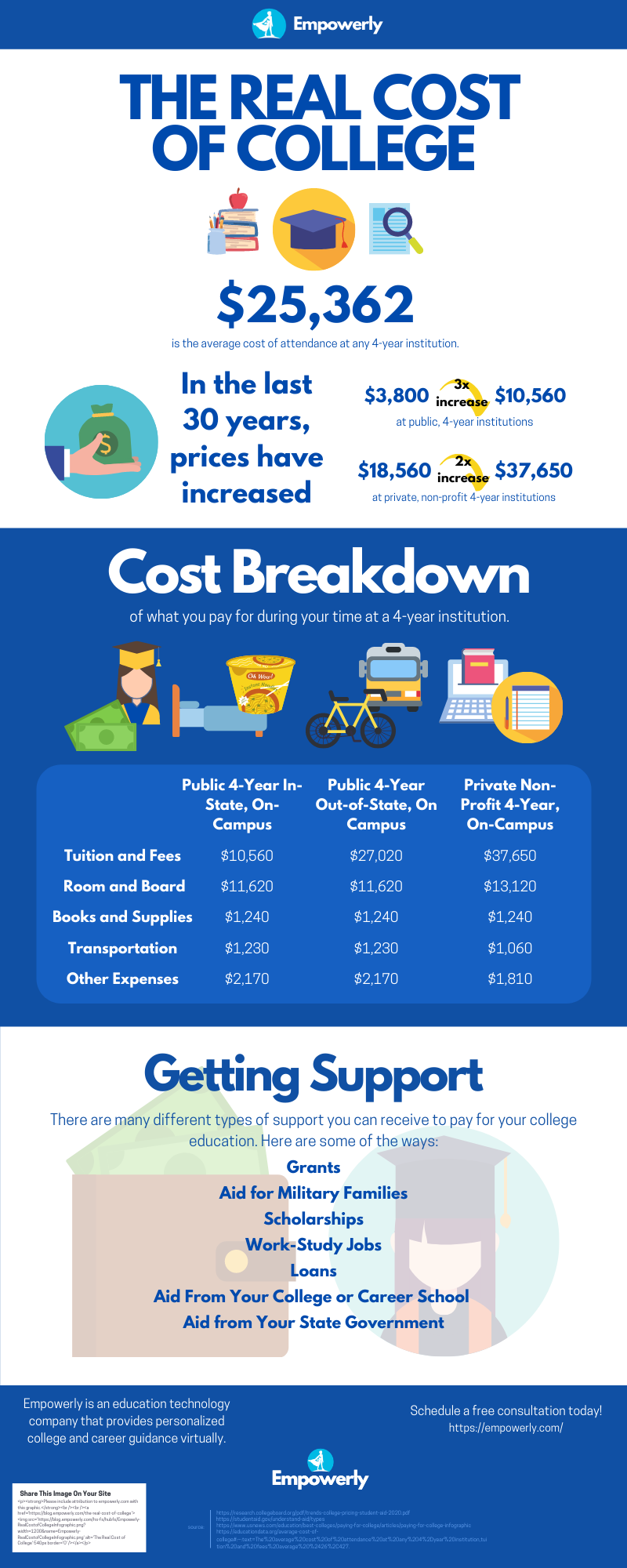 So what have we learned?
Affording college doesn't have to be out of reach. There are options out there to make it manageable; and even better, options to help you graduate with the least possible student debt. No matter what the future holds, keeping an eye to your credit score and staying money-smart will serve you well.
On that note…
Looking for a scholarship or grant, but don't know where to start? Here are some key factors to look for when searching for financial gift opportunities that will actually be worth your while as you plan your cost of college:
You (typically) shouldn't have to pay to apply. There are a few exceptions, but for the most part, scholarships or giveaways that demand that YOU pay THEM money first… aren't going to be credible.

Look for niche eligibility requirements! Think hard about what sets you apart; it could be religion, ethnicity, gender, orientation, unique activities you participate in, or even what you want to study in college, or where you plan to attend school. The smaller the pool of potential applicants, the better your chances of winning!

Don't dismiss the smaller award amounts. Sure, it seems appealing to apply to several thousand dollar awards or prizes, or even higher. But taking the time to fill out smaller apps as well can stack up.

Use your talents! There are plenty of monetary prizes for excellent student work, from arts, to science fairs, to sports, and more. Lean in to your gifts and make them work for you.

Look beyond the first page of Google search results. The bigger and more well-known scholarships are going to be harder to win; it's just a fact. Look deeper for more worthwhile opportunities.
Empowerly's team has the scoop! From finding the best scholarships that you're eligible for, to helping you perfect your application and give you the best shot of landing them, we know how to help.
We're on your team. Looking for more support, or an experienced mentor to work with throughout the college applications process and beyond? Book your consultation today.